Enlightened 4D Imaging vs. Little Bellies (Woodbury/Lake Elmo)
We are so confident in the quality of ultrasound we provide that we are happy to show you what others in this area offer.

As we say, let your eyes decide. If you want more proof, look for yourself but come back here!
Transparency and trust are paramount when it comes to preserving the joy and excitement of your pregnancy journey. At Enlightened 4D Imaging, we place the utmost importance on providing accurate and professional services. Recently, we've heard concerns from disappointed clients about the practices of another local imaging company, Little Bellies. We felt it was necessary to address these concerns and provide some clarity.
| | Enlightened 4D Imaging | Little Bellies |
| --- | --- | --- |
| Origin | Locally owned and operated | Florida-based franchise |
| Establishment Year | 2009 | 2023 |
| Imaging Experience | 13+ years | Less than a year |
| Authenticity of Images | Verified images from our center | Images may not be from their location |
| Reviews | Genuine client reviews | Multiple reviews suspected to be fake |
| Staff | Medically trained local staff | Staff credentials unverified |
| Facility | The room comfortably accommodates family | Smaller room may be uncomfortable for family |
Detailed Comparison:
Image Authenticity: A common concern we've heard is the authenticity of the images presented by Little Bellies. It's essential to choose a provider whose images are verifiable and who is transparent about their methods and technology.
Imaging Terminology: The term "5D" used by Little Bellies doesn't correspond to an advanced imaging technique. Be aware that it appears to be a marketing gimmick, not an actual advancement in ultrasound technology. Want to know more about 5D? Check out our blog post on 5D and the "HD Edit".
Reviews: Reviews can provide valuable insights into a company's services. However, it's crucial to ensure they are genuine. We found that a significant percentage of Little Bellies' reviews seem to be from accounts outside the service area or new accounts with single reviews.
Same baby within two hours of visiting Little Bellies and then Enlightened 4D Imaging.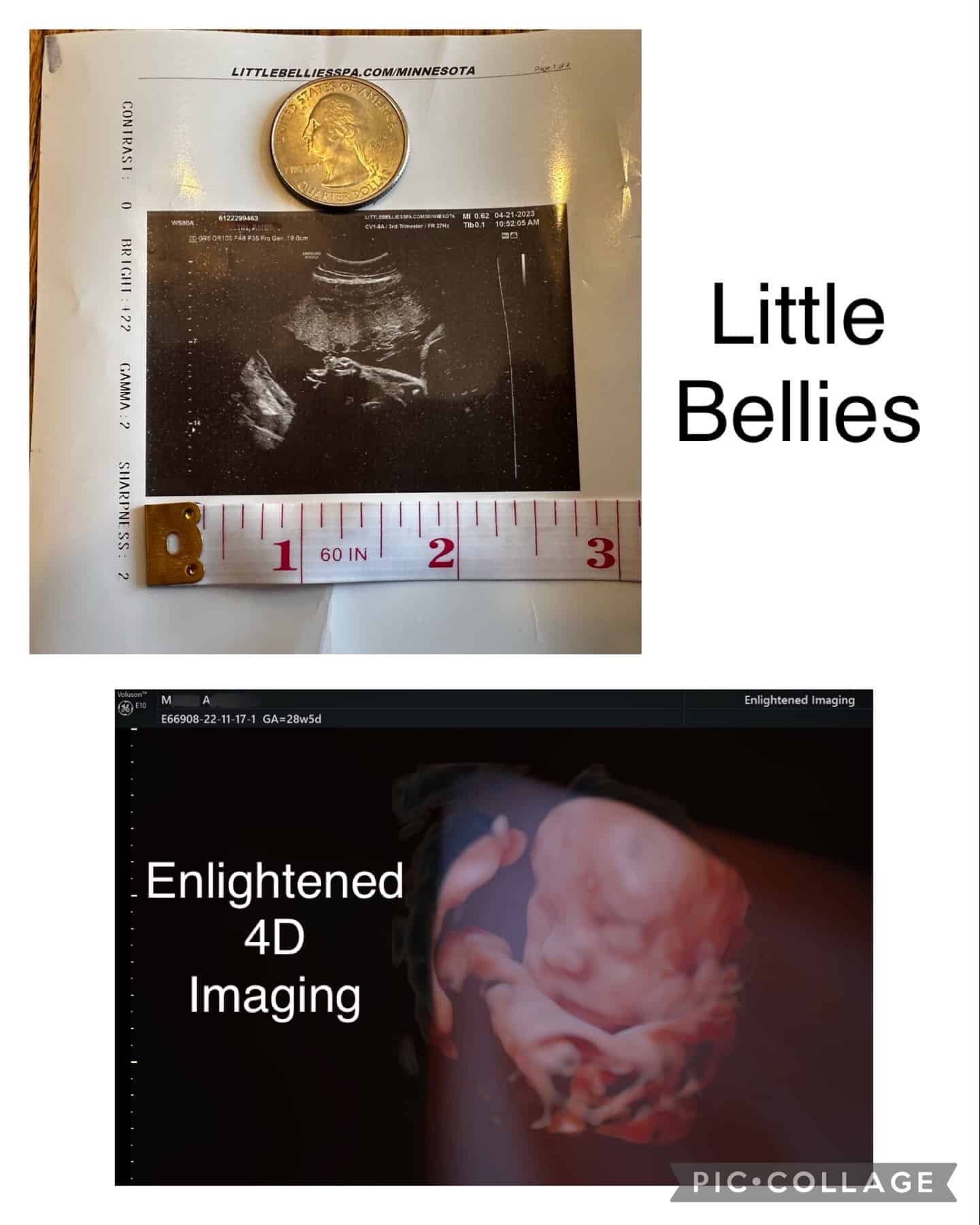 One of the most striking differences between our service and that of Little Bellies is the quality of the images produced during a 5D scan. We would like to take a moment to share a story that illustrates this difference very clearly.
A couple came to us after having a disappointing experience at Little Bellies. They had paid $140 for a "5D" scan at Little Bellies and the image inserted here is exactly what they received – a result far from their expectations.
They were given multiple reasons for the poor image quality – they were told that their baby was both too small and too big, and that the mother hadn't consumed enough water. The couple decided to visit us at Enlightened 4D Imaging just two hours later, seeking clarity and hoping for a better experience.
Upon their visit to our facility, we found that all the reasons provided by Little Bellies for the poor image quality were not accurate. Our highly experienced staff performed a scan using our cutting edge technology and produced significantly clearer images of their baby.
We understand that such a drastic difference in image quality might be hard to believe. However, this is a real-life comparison, demonstrating the stark contrast between the services and the results you can expect when comparing Enlightened 4D Imaging with Little Bellies. We take pride in our advanced imaging technology, the professionalism of our staff, and our commitment to providing an exceptional experience for expecting parents.
Pricing Comparison:
| Service | Enlightened 4D Imaging | Little Bellies |
| --- | --- | --- |
| Heart Beat Check | $39.00 (Early) | $89.00 |
| Gender Check | $99.00 ($100.00 guarantee) | $109.00 (No guarantee) |
| 4D Scan | $129.00 (Advanced Level 3 imaging) | $129.00-$149.00 |
(Note: The images shown on Little Bellies' pricing are not representative of the service they provide)
Facility Images: We have received multiple reports, corroborated by video evidence from clients, suggesting that the images featured on Little Bellies' webpage and Google page are not representative of their Woodbury facility. Instead, it appears these are stock images from other franchise locations. Clients have indicated that the actual facility bears no resemblance to the images displayed, and while the online images suggest a spacious room filled with joyful individuals, the reality is quite different. The actual room is reported to be so small that accommodating more than three people becomes a struggle. We believe the misrepresentation of their facility, along with the distortion of their ultrasound images and questionable five-star reviews, could be a part of a deliberate tactic to mislead potential customers. It's essential to get a truthful depiction of the facility where your scan will take place.
Digital Memory: Little Bellies claims to provide a USB drive with digital images and video. However, this has not been the experience of clients we've spoken to.
Transparency and Consistency: The Cornerstones of Trust in a Business
One of the key attributes we value in Enlightened 4D Imaging is transparency. We believe that every customer should be fully aware of the services they're receiving and the price they're paying for those services.
Recently, we came across a response to a Google review by Little Bellies which raises questions regarding transparency and consistency. In the response to a customer named Michaela, Little Bellies states, "We want to assure you that 5D imaging is not a service we offer." However, on their own website, they advertise "See your baby in 2D, 3D, 4D, or 5D/HD."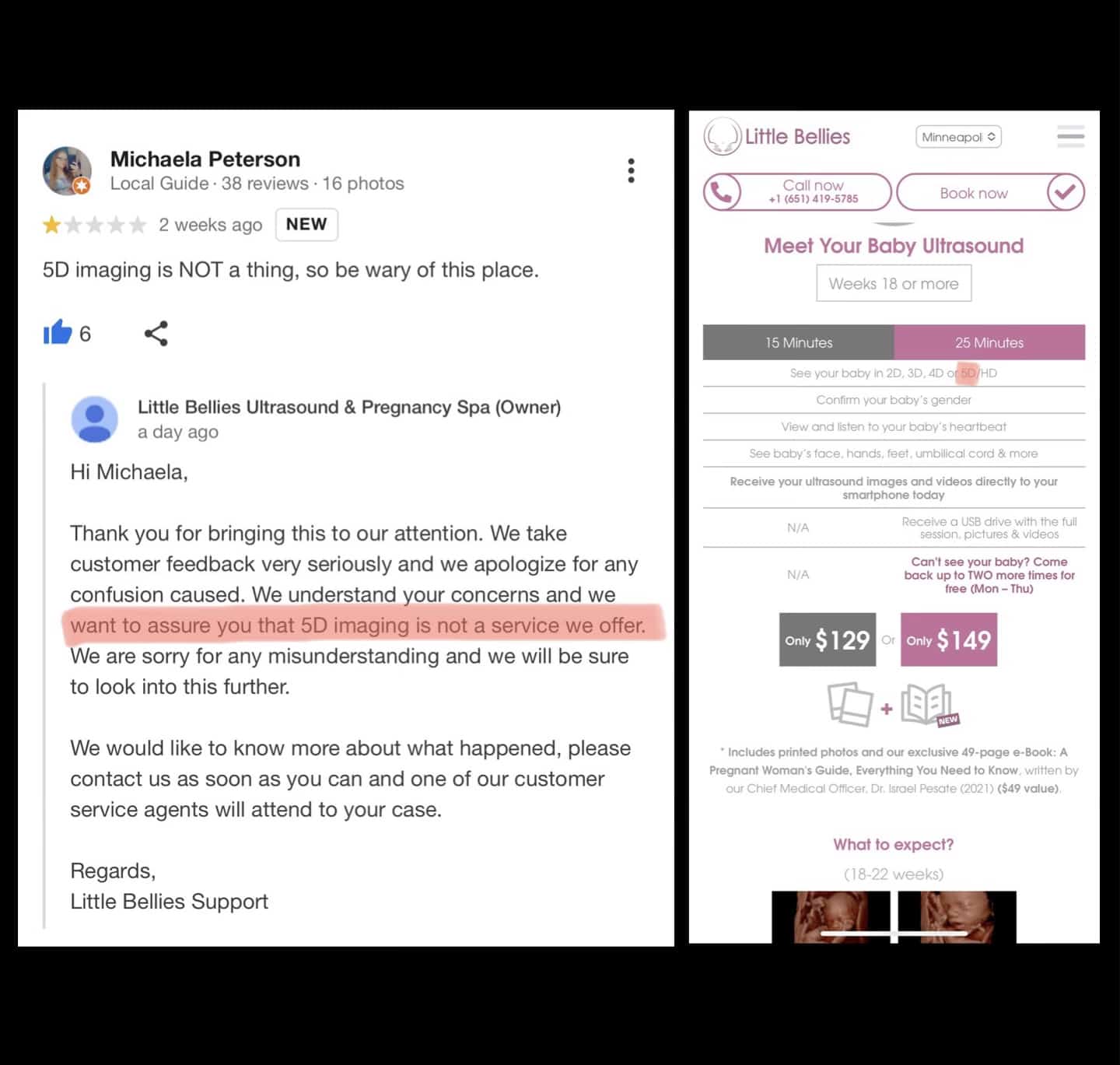 These conflicting statements can be confusing for potential customers. When a company offers a service on its website but then denies providing it in a public response, it can cast doubt on their transparency and reliability.
At Enlightened 4D Imaging, we strive to maintain consistency and transparency in all our customer interactions. When you choose us, you can rest assured that the services we offer are clearly defined, and we stand by what we advertise. We are committed to providing our customers with an exceptional experience and high-quality imaging services, ensuring full satisfaction every step of the way.
Remember, when choosing an imaging service for such a precious moment in your life, always consider the transparency and trustworthiness of the company. After all, you deserve the best.
Why Choose Enlightened 4D Imaging?
Over 13 years of gender and 4D imaging experience.
Not a franchise; we're a locally-owned, family-run business.
Our platform offers the most advanced imaging technology available.
Our team includes medically trained staff, providing support from start to finish.
High-quality, professionally printed images, not flimsy heat-activated prints.
We provide high-quality video of your entire scan and all images to your phone, computer, or tablet – easily shareable and backed up by us.
No dealing with a call center in a different state.
Work with a passionate husband-and-wife team who understand your journey, and care greatly about your experience.
Choose a proven company for your imaging needs. Click here to learn more about Enlightened 4D Imaging's services.
All images are sourced from publicly posted references on their own social media pages or given to us by clients who came to us to get better images and experience.