What to expect and how to prepare for your scan.
How To Prepare For An Ultrasound at Enlightened 4D (Hint: You Can Pee!)
Unlike a medical ultrasound, a full bladder is not necessary when you arrive at Enlightened 4D. We have an innovative sonographer and top of the line equipment, so lack of fluids is rarely a problem. We also do not recommend loading up on sugar or caffeine to "get the baby moving". Just arrive 5-10 minutes early for paperwork, and we'll take you on an amazing guided tour of your baby. 
What Happens During The Ultrasound
During the scan, you lie down on a bed in our viewing room. The sonographer puts a water based (non-staining) gel on your stomach. Then the sonographer will put a small probe onto your belly which acts as a transducer. The probe sends sound waves into your body and the reflections are captured and transformed into images of your new baby. The images are displayed on our 100″ ultrasound screen. This process is 100% safe for both mom and baby. 
What If I Don't Want To Know The Gender?
If you're receiving a gender determination ultrasound, the technician will reveal the gender to you.  If you do not want to know the gender, tell your technician before the start of your scan.
To avoid giving away the surprise, the technician will begin the scan with the screens off, map out the position of the baby, and then turn on the screens so you only see your bundle of joy (and not the gender). This is a regular request and we never make mistakes. 
What If My Baby Isn't In A Good Position During My 4D Scan?
Factors That Impact The Outcome of a Scan:
Gestational age of the baby.
Position of the head, face, hands, feet, cord or placenta.
Later in a pregnancy the fluid levels dissipate
Tissue density of mom can affect the crispness of images of baby.
The experience of our techs and the qualify of our equipment allow us to work through many issues and get great images under less than optimal conditions. However, we are limited by physics.
Sometimes we offer return visits to expecting mothers who aren't able to get a good view of their baby during a scan. We retain the right to offer a return visit at our discretion, but rest assured we want to get the best images of your baby and will work extremely hard to do so.
A primary factor for offering a return visit is whether or not you're within the recommended gestational age for the scan. Each scan on our services page has a recommended time frame. Please consider this when booking. We will still see you outside of this window, but in the event your baby isn't in a good position, you will not qualify for a return visit without being recharged.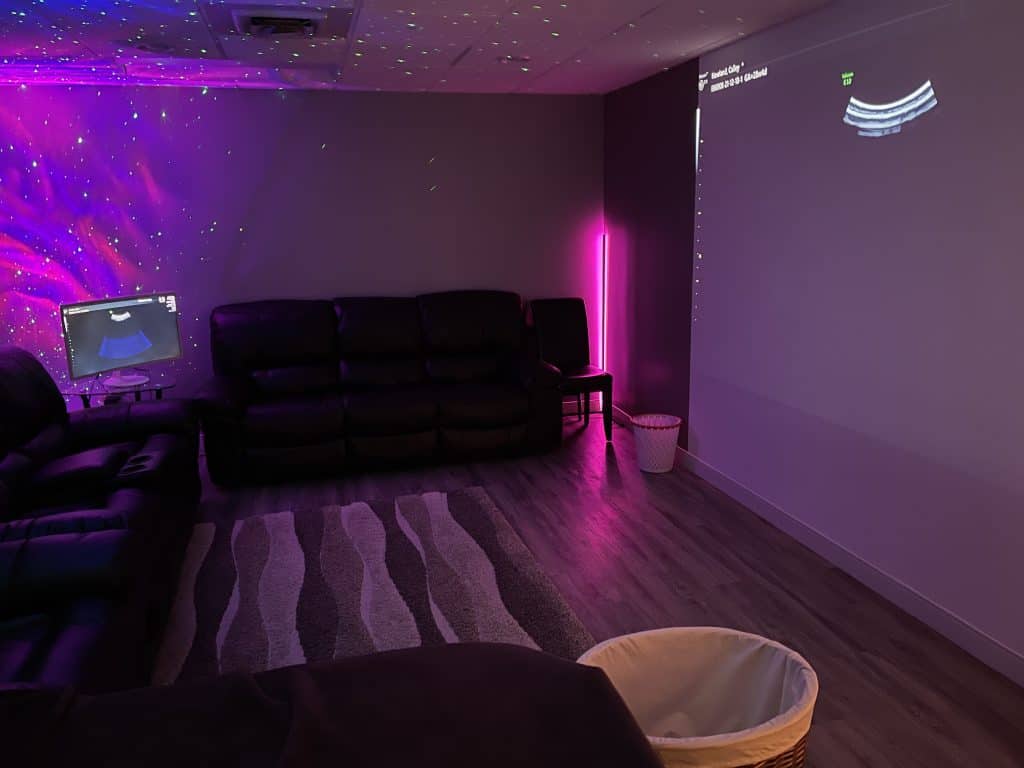 Being punctual is very important! We have a very busy schedule and can not typically accomodate for late arrivals. Please take the time before your appointment to look up driving directions from your location and take considerations if you're driving during times of heavy traffic. Directions and our address can be found on the contact page. 
Review Our Policies Regarding Rescheduling & Cancellations
We Love Reviews & Referrals
After your appointment, we hope that you'll consider writing us a five-star review on Google, Yelp, or Facebook. Reviews help more people discover our services. We also encourage you to share your experience on social media. Posting your photos and videos helps us generate referrals. Be sure to tag us!
We're Here To Answer Your Questions About 3D/4D Ultrasounds
If you're ready to book your appointment, click the button below. If you still have some questions, our staff is happy to help.